Anhui Provincial Academician Workstation, HTBT Officially Inaugurated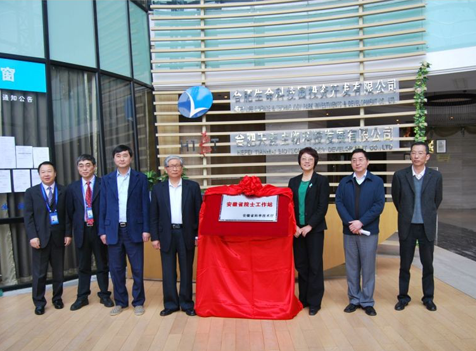 On April 24, the Anhui Provincial Academician Workstation, HTBT was officially inaugurated as a new academician workstation in our area and it means one more

Academician Workstation

in the area. It

will provide high-end intelligence support for the bio-pharmaceutical industry such as insulin in the area. Zhou Xiaogang

, t

he Deputy Director of the Science and Technology Department of Anhui Province attended the ceremony and read the official approval document of the academician workstation. Liu Changxiao, an academician of the Chinese Academy of Engineering and a leader of the academician team of the workstation, said at the

opening ceremony

that he would

cooperate

with HTBT

harmoniously

to contribute to the pharmaceutical industry of Anhui Province. Guan Yong

,

Deputy Director of the Administrative Committee of the area and the Science and Technology Bureau of Hefei City also attended the

opening ceremony

, which was hosted by HTBT's Co-CEO Jiang Lixin.
HTBT is a high-tech bio-pharmaceutical enterprise that specializes in the R&D and production of the second- and third-generation recombinant human insulin APIs and preparations. The company produced the first batch of high-purity insulin crystals in November 2013 and its insulin preparations are soon to enter the clinical trial phase. In addition, HTBT has introduced Liu Changxiao's academician team to set up an academician workstation, which will accelerate HTBT's R&D of new drugs by taking the academic and technological advantages of China's only national key laboratory of pharmacokinetics, and will get authoritative guidance in the introduction of new drugs. The two parties will also cooperate on talent development to enrich HTBT's talent pool as well as provide a good experimental base for talent development of research institutes.
Academician Liu Changxiao has been engaged in pharmacokinetics research for 40 years, and is one of the pioneers and leaders of China's pharmacokinetics discipline. From 1968, Liu initiated the establishment of the first domestic laboratory of pharmacokinetics, applied pharmacokinetics research to the evaluation and identification of new drugs for the first time in China, punished the first domestic monograph on pharmacokinetics, and created a number of key laboratories of pharmacokinetics. In 1992, Liu received the government subsidy of the State Council. Liu was awarded as Advanced Worker, Labor Model and National Labor Model.
Up to now, our area has three academician workstations, which will provide strong support for local economic development and transformation. (Second Investment Promotion Bureau)motion Bureau)