Director Of The Anhui Provincial Food And Drug Administration Xu Hengqiu Visits HTBT For A Field Survey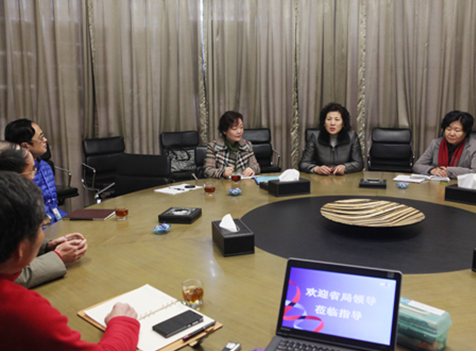 On February 21st, Xu Hengqiu, director of the Anhui Provincial Food and Drug Administration, along with the leaders of the drugs and cosmetics registry, the drugs and cosmetics production supervision department and the news office of the Anhui Provincial Food and Drug Administration, had a special visit to HTBT for a field survey.
Although the mass line educational practice of the Anhui Provincial Food and Drug Administration was ended, the concept of serving the masses and enterprises and promoting the development of medical economy always runs through various work of the administration. This is the second time that director Xu Hengqiu has visited an enterprise to study the solutions to problems and difficulties that pharmaceutical enterprises have encountered during technical innovation and development following her visit to Anhui Biochem United Pharmaceutical with Yu Yong, the secretary of Fuyang Municipal Party Committee on February 10 to have a survey and discussion about the R&D of innovative drugs.
HTBT is a biotechnology company that mainly develops new insulin drugs for the treatment of diabetes. Director Xu listened carefully to the company's report, and discussed with the company's responsible person with current difficulties and problems to be solved. The accompanying drug registration and GMP certification expert of the Anhui Provincial Food and Drug Administration gave detailed answers to questions about new drug registration and GMP certification proposed by the company, explained some problems about overseas registration, export and domestic registration that enterprises have encountered, and provided suggestions as to how to organically combine on-site verification and production site inspection to save registration time. Director Xu and her party also inspected the company's production workshop.
Director Xu pointed out during the survey that HTBT is a promising, high-tech enterprise that will improve the bio-pharmaceutical level of the province, and act as a leader, and that the Anhui Provincial Food and Drug Administration will as always provide strong support for highly innovative enterprises with high standards and good prospects. She said, "Enterprises may put forward problems during their development at any time. The provincial food and drug administration will do everything possible to support you and solve your problems in the shortest time as possible, we will solve the problem today if it can be solved. If you need to consult the national food and drug administration, we may do that for you. We'll promote development through standards, and provide service for the development of medical economy. Hopefully, enterprises attach importance to quality and safety, adhere to high standards of production and innovative research and development, continue to strengthen international cooperation, develop an international development strategy in line with their own characteristics, and select a proper development path based on the characteristics of the international and domestic markets."